Software
Version 4.4 News (11/2011)
Objects, textures and materials
TRACHEA – complete update of doors mapping (for new large textures)
TRACHEA – new door shapes: D1 and D4, renaming of 00 shapes to L00, 33 to 33B, 45 to 46, withdrawal of 10A, 10B, 19
TRACHEA – price calculation without surcharges for atypical products, surcharges are calculated according to the new price list (1.11.2011)
TRACHEA – foils updated according to the current selection 1.11.2011 – corresponding textures 1400 x 1400 px
TRACHEA – P1 and P4 panels (in add-ons)
Pull handles – linear L1-L4, sensor and new types
Add-ons – bar supports
New corner cabinet
New features
Object descriptions Automatic cabinet dimensioning in the ground plan has been enhanced: the feature displays the dimensions for the whole cabinet layout (units are taken from the project settings).
The width is labeled with the dimension and the height is in brackets, e. g. 1200 (820).
The depth of the whole cabinet/frame, in the case of base cabinets is displayed to the right (turned) and in the case of upper cabinets to the left (turned), e. g. 578/510.

Program description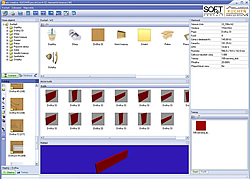 KITCHEN for ArCon allows you to design a kitchen set with accessories in a real space according to the customer's wishes. The product line catalog uses details from the database (serial number, description, dimensions, price) connected with 3D objects from the product line. You can quickly change both the products and their surfaces in the scene. The exchange is done using the shopping cart. The Layout Editor is a very flexible tool which allows you to edit ArCon layouts. Its importance is growing in the case of flexible changes of furniture sets in the design. The output in the form of visualizations, views, price calculations and assembly plans allows for effective management of business cases. Kitchen for ArCon also ensures that data for the production gets processed. The software divides cabinet frames into individual parts and it generates cutting plans.